Baseboard Heating
Routine Care Task
Close baseboard heating louvers
Priority


Closing the baseboard covers help keep dust from building up in the off-season, which would reduce your energy efficiency.
NOTE: The tasks and timings shown here for your Baseboard Heating are based on a single-family home (owned), located in Massachusetts, United States, with priority set at '1 star' or higher, for all possible goals.
If you set your personalization differently in your Home Wizard app, then you may get reminders for different tasks and timings in your recommended home care program for your Baseboard Heating.
How To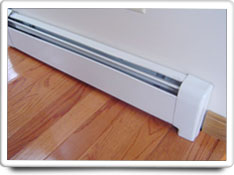 Rotate the louver at the top of each baseboard heating section so that it is closed.
Helpful Accessories
Fin Comb
Straightens fins of ac/heating systems
Cordless Dustbuster - Vacuum Cleaner
Powerful suction capability for air filters
Benefits
Allergy Control

Child Safety

Energy Savings

Health & Safety
The benefits of this task are moderate. Doing this task can help improve the energy efficiency of your heating system.

Costs


The cost of this task is fairly low, depending on the amount of baseboard heating pipes in your home. The task is relatively easy to do, and no specialized tools are required.
Other Routine Care Tasks
Baseboard Heating