Outside Water Faucets
Routine Care Task
Re-open faucets (cold climates)
Priority



This task prepares faucet for seasonal use.
NOTE: The tasks and timings shown here for your Outside Water Faucets are based on a single-family home (owned), located in Massachusetts, United States, with priority set at '1 star' or higher, for all possible goals.
If you set your personalization differently in your Home Wizard app, then you may get reminders for different tasks and timings in your recommended home care program for your Outside Water Faucets.
How To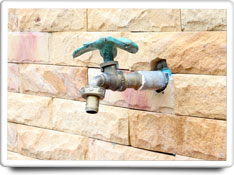 To re-open the faucets:

Check to be sure the drain plug for the inside valve is tightened.

Open the valve just inside of the house or building from for the faucet.

Open the outside valve for the faucet.

Check the inside valve for any leaks.

Benefits
Avoiding Unscheduled Repairs

Health & Safety

Appearance
The benefits of this task are that it allows you to use your spigot again.
Costs


The cost of this task is low, from an investment of time standpoint. Turning water back on to your outside water spigots is easier than turning it off, since you do not need a bucket to drain the valve to the spigot, you just open it back up.
Other Routine Care Tasks
Outside Water Faucets