Patio Furniture
Routine Care Task
Take in or cover (cold climates)
Priority


Outdoor furniture is an investment that will last many years if maintained properly.
NOTE: The tasks and timings shown here for your Patio Furniture are based on a single-family home (owned), located in Massachusetts, United States, with priority set at '1 star' or higher, for all possible goals.
If you set your personalization differently in your Home Wizard app, then you may get reminders for different tasks and timings in your recommended home care program for your Patio Furniture.
How To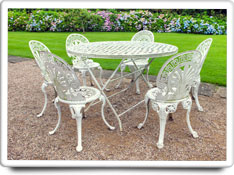 When outdoor patio furniture is brought out (or uncovered) for the season, the following care should be provided:

Plastic furniture: Apply mild detergent to plastic, allow to soak in for a while. Use a stiff scrub brush and a hose to wash clean. For hinges add a few drops of oil or silicon spray.

Wrought Iron Furniture: A protective coat of wax (either liquid or can paste wax) will make cleaning easier and will help retard rusting.

Redwood furniture: Though redwood furniture theoretically needs no finish, furniture made from redwood will look better and last longer if it is coated annually with a pigmented redwood sealer. The sealer will help the wood to shed water and keeps stains from soaking in. The underside of the furniture should be included, and to keep the wooden legs from soaking up moisture, several coats of sealer should be applied to the bottom ends. Before applying the sealer, be sure to clean and scrub the surfaces as necessary.

Aluminum furniture: Tubular aluminum furniture generally needs no painting or finishing. However, an annual coat of paste wax will help to prevent pitting and to make it easier to keep clean.

Rattan furniture: Furniture made of woven peel or rattan is supposed to be immune to damage by the weather. However, like redwood furniture, peel and rattan will look better and last longer is it is coated regularly with a protective finish such as a spar varnish or weatherproof plastic coating.
Helpful Accessories
UV Protectant - Outdoor Patio Furniture
A safe and effective protection for patio furniture
Patio Furniture Covers
Weatherproof outdoor furniture cover
Patio Furniture Cleaner
Benefits
Maintaining Value

Appearance

Avoiding Unscheduled Repairs

Comfort & Convenience
The benefits of this task are relatively high. Doing this task can help extend the useful life of your patio furniture.
Costs


The cost of this task is relatively low. It is estimated that this task should only take about 30 minutes to complete, and the task is relatively easy to do. No specialized tools are required.
Other Routine Care Tasks
Patio Furniture