Storm Windows
Routine Care Task
Take down removable storm windows
Priority



Removing storm windows for the summer helps to extend their useful life.It also allows clearer views out of the window, and depending on the design of your storm windows, it can allow you to use screens in the summertime, which can help save you on your air conditioning energy costs.
NOTE: The tasks and timings shown here for your Storm Windows are based on a single-family home (owned), located in Massachusetts, United States, with priority set at '1 star' or higher, for all possible goals.
If you set your personalization differently in your Home Wizard app, then you may get reminders for different tasks and timings in your recommended home care program for your Storm Windows.
How To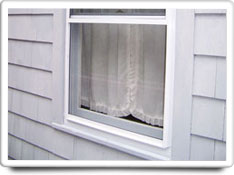 Carefully take down removable storm windows.

The storm window should be stored vertically in a clean location, and placed square so as not to promote warpage.
Helpful Accessories
Weather Sealing Tape
Weatherproof tape that seals doors and window cracks
Caulking Sealant
Waterproof and weatherproof seal for any joints
Benefits
Maintaining Value

Appearance
The benefits of this task are relatively high, if removing your storm windows allows you to open your screens, which allows you to save energy on your home air conditioning.
Costs




The cost of this task is relatively high from an investment of time standpoint. Depending on your house, you may need ladders to complete this task, or need to hire someone to do it for you.
Other Routine Care Tasks
Storm Windows