Swimming Pool
Routine Care Task
Open pool for the summer season (cold climates)
Priority




This task prepares pool for summer use.
NOTE: The tasks and timings shown here for your Swimming Pool are based on a single-family home (owned), located in Massachusetts, United States, with priority set at '1 star' or higher, for all possible goals.
If you set your personalization differently in your Home Wizard app, then you may get reminders for different tasks and timings in your recommended home care program for your Swimming Pool.
How To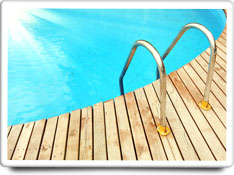 Each swimming pool is different, so you should contact a local pool professional for the specific maintenance requirements for your particular pool. But below are shown generalized instructions for opening your pool for the season:

Remove debris and water from on top of the pool cover.

Carefully remove, clean, and store pool cover.

Empty out water tubes or air pillows as applicable.

Unplug all pipes.

Re-attach rope, floats, volleyball nets, diving boards, ladders, etc.

Lubricate bolts, etc.

Re-install skimmer baskets.

Hook up pump, filter, etc. Check grounding straps or wires, and then turn on power.

Check for leaks or drips.

Shock the pool with chlorine or the sanitizing chemical of choice.

Check and adjust chemicals.

Vacuum debris from bottom.


See also: Decking and Hot Tub Spa.

Benefits
Comfort & Convenience

Appearance
The benefits of this task are high. Properly setting up you pool for the summer is essential for its proper performance.
Costs




The cost of this task is relatively high. It can be quite time consuming, and may even be something that you want to hire a professional to do for you.
Swimming Pool