Outside Water Faucets
Routine Care Task
Shutoff and drain (cold climates)
Priority




This task prevents potential danger to your outside water valves from freezing water in the winter.
When the water freezes, it expands causing the valve to either leak or crack, which can allow water to flow inside the house.
Timing:

November

(yearly)



NOTE: The tasks and timings shown here for your Outside Water Faucets are based on a single-family home (owned), located in Massachusetts, United States, with priority set at '1 star' or higher, for all possible goals.
If you set your personalization differently in your Home Wizard app, then you may get reminders for different tasks and timings in your recommended home care program for your Outside Water Faucets.
How To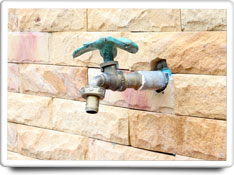 To shut off and drain outdoor water faucets:

Ensure that the outside valve for the faucet is shut off tight (that is, turn the handle on the outside of the house tight clockwise).

Shut off the valve just inside of your house near where the pipe for the faucet goes through the wall.

Place a bucket under this inside valve, and unscrew the small drain plug on the side of this valve. This will allow the water that is trapped between the two valves to drain out.

Screw the drain plug back in.

Also bring garden hoses inside to prevent damage to them from the cold.
Benefits
Avoiding Unscheduled Repairs

Health & Safety

Appearance
The benefits of this task are relatively high. Doing this task can help prevent water damage in your home.
Costs


The cost of this task is low, from an investment of time standpoint. It is estimated that this task should only take about 30 minutes to complete, depending on how many outside spigots you have. Once you have done it the first time, it is very easy to do thereafter.
Other Routine Care Tasks
Outside Water Faucets