Room Air Conditioner
Routine Care Task
Clean outside condenser unit
Priority


The purpose of this maintenance task is to help maintain the energy efficiency of the condenser unit.
A dirty unit is less efficient at doing its job, which means that your air conditioning unit has to work harder which causes it to consume more energy and shortens its service life.
NOTE: The tasks and timings shown here for your Room Air Conditioner are based on a single-family home (owned), located in Massachusetts, United States, with priority set at '1 star' or higher, for all possible goals.
If you set your personalization differently in your Home Wizard app, then you may get reminders for different tasks and timings in your recommended home care program for your Room Air Conditioner.
How To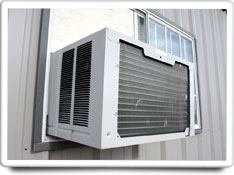 Cleaning the outside portion of the condenser unit involves four activities:

Remove leaves, debris, spider webs, etc. from the outside of the unit. You can use a vacuum cleaner attachment to gently clean between the fins. Oily deposits should be removed using a solvent.

If any of the fins are bent, you can use a special tool called a "fin comb" to straighten and clean them. Be careful though, these fins are very fragile.

Check to be sure the drain holes are clean so that condensate water can escape properly (see your user's manual).

Lubricate the fan motor as described in your user's manual.
Benefits
Energy Savings

Avoiding Unscheduled Repairs

Maintaining Value

Appearance
The benefits of this task can be somewhat high because this task helps ensure the energy efficient operation of your air conditioning unit, and it helps maintain its useful life.
Costs




The cost of this task is moderately high. Cleaning the outside of the unit only takes a few minutes. But cleaning inside the unit and oiling the motor is much more difficult, and straightening the fins requires a special tool. This part of the task is probably best left to a trained professional.
Other Routine Care Tasks
Room Air Conditioner