Swimming Pool
Routine Care Task
Weekly summer pool maintenance
Priority




This task helps keep pool water clean and safe.
Timing:

Weekly during season.

June, July, August, September

(yearly)



NOTE: The tasks and timings shown here for your Swimming Pool are based on a single-family home (owned), located in Massachusetts, United States, with priority set at '1 star' or higher, for all possible goals.
If you set your personalization differently in your Home Wizard app, then you may get reminders for different tasks and timings in your recommended home care program for your Swimming Pool.
How To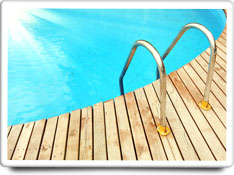 The following maintenance tasks should be conducted weekly when the pool is open during the summer:

Completely backwash filter.

Test and adjust chlorine or the sanitizing chemical of choice, pH, and alkalinity.

Vacuum pool floor and walls.

Shock pool and add algaecide.

Empty skimmer baskets.


See also: Decking and Hot Tub Spa.
Benefits
Health & Safety

Avoiding Unscheduled Repairs

Maintaining Value

Energy Savings
The benefits of this task are relatively high, in that it helps to ensure the proper operation of your swimming pool.
Costs



The cost of this task is moderate. It is estimated that this task should take about 60 minutes to complete, and is something that some might want to hire a professional service to do.
Swimming Pool